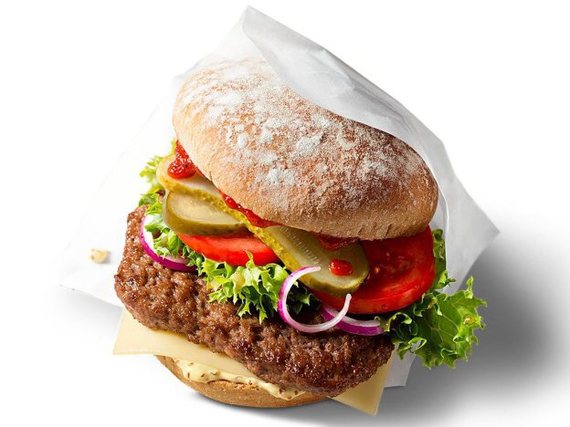 By Lisa Elaine Held for Well+GOOD
Several years ago, I drove with friends across a barren desert out West. After several hours of no civilization and not a snack in the car, we stopped to enjoy our only dinner option: Burger King.
As a New York City health journalist-slash-food snob (and at the time, a vegetarian, to boot), I hadn't eaten fast food in years, and I studied the menu until I saw, in the bottom corner, in fine print, a veggie burger (essentially my only option). When I asked for it, the cashier looked at me like I had three heads and then turned herself around to check if it was really listed on the menu board.
Today, she may have smiled and asked, "Would you like kale with that?"
Okay, not quite, but a new era of healthier fast food may be on the horizon, and Chick-fil-A's shocking replacement of its coleslaw with kale salad this month is just one example.
In 2014, Carl's Jr. introduced an "all-natural" burger made with beef from grass-fed cows. Last year, McDonald's announced it would be switching to chicken that is largely antibiotic-free, started test-driving an all-organic burger in Germany, and debuted a cafe concept in Canada that serves quinoa salads and a lentil-sweet potato hummus-kale wrap. Subway and Papa John's announced they're eliminating artificial ingredients from their food, while Panera took that a step further, releasing a "No No List" of 150 unhealthy ingredients–including artificial flavors, preservatives, and sweeteners–that it would be phasing out by the end of 2016.
"In the 12 years since Super Size Me came out, the industry has changed a lot, and peoples' attention to what they're eating and the importance of health and wellness has really increased," observes health coach and chef Alex Jamieson, who co-created and co-starred in the groundbreaking documentary, back then, to call attention to fast food's damaging effects on the body.
"The word is out that highly processed foods are not a good basis for healthy diets," adds food politics expert and author Marion Nestle, the Paulette Goddard Professor in the Department of Nutrition, Food Studies, and Public Health at NYU. "The trend is clear: fresh, natural, local, organic. This is hard for fast food and processed food makers to accomplish, but they are all trying."
Why fast food companies now have to care about healthy options?
Head to Well+Good to find out!
— This feed and its contents are the property of The Huffington Post, and use is subject to our terms. It may be used for personal consumption, but may not be distributed on a website.