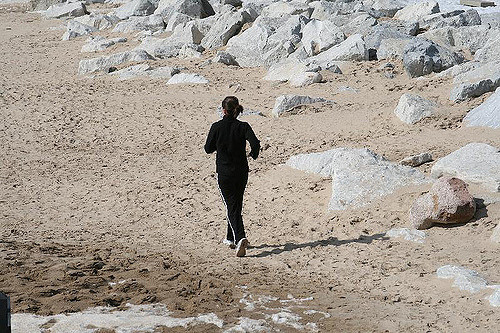 February's top picks play more like summer workout mix than a winter one — thanks to a wealth of pop and dance favorites. On the pop side of things, you'll find the latest from Taylor Swift and Jason Derulo. On the dance side, you'll find a new solo single from LMFAO's Redfoo and Robin Schulz's re-working of Baby Bash's 2003 hit "Suga Suga."
While club music might dominate the month's proceedings, there were a couple of notable exceptions: a crossover hit from the Zac Brown Band and a collaboration between Fall Out Boy and Demi Lovato. As ever, it doesn't matter with which track you start your workout. It only matters that you start. When you're ready, here's the full list — according to the votes logged on workout music site Run Hundred.
Redfoo – "Juicy Wiggle" – 128 BPM
Pitbull – "Free.k (Sak Noel Remix)" – 129 BPM
Disclosure & Sam Smith – "Omen (Dillon Francis Remix)" – 112 BPM
Taylor Swift – "Out of the Woods" – 92 BPM
Fall Out Boy & Demi Lovato – "Irresistible" – 83 BPM
Jason Derulo – "Get Ugly" – 110 BPM
Dzeko, Torres & Delaney Jane – "L'amour Toujours (Tiesto Edit)" – 130 BPM
Zac Brown Band – "Beautiful Drug" – 126 BPM
Shawn Mendes & Camila Cabello – "I Know What You Did Last Summer" – 113 BPM
Robin Schulz & Francesco Yates – "Sugar" – 123 BPM
Check out this month's top 10 workout songs on Run Hundred: www.RunHundred.com.
For more by Chris Lawhorn, click here.
For more from HuffPost Workouts, click here.
Also on HuffPost:
— This feed and its contents are the property of The Huffington Post, and use is subject to our terms. It may be used for personal consumption, but may not be distributed on a website.