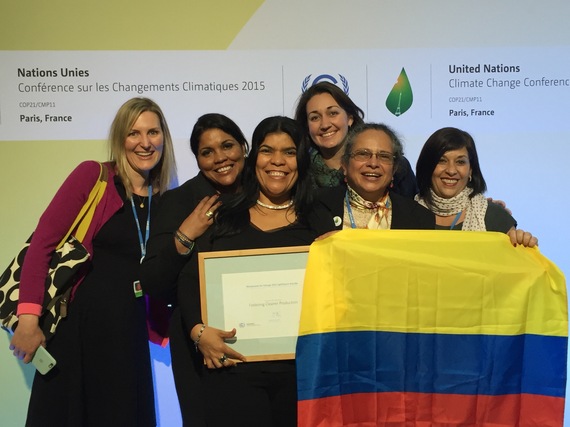 In the past seven days, the east coast of the United States was hammered with one of the biggest snowstorms it has ever seen and a breaking report was published stating that 2015
GGO team participates at COP21
The power of women's leadership has proven true in other environmental arenas outside of the climate change meetings. For instance, countries with higher female parliamentary representation are more likely to set aside protected land areas, as a study of 25 developed and 65 developing countries reveals; and to ratify international environmental treaties, according to a study of 130 countries. In addition, of the 49 countries that reduced carbon dioxide emissions between 1990 and 2007, 14 had a very high Human Development Index rank, specifically 10 of which with higher than average female parliamentary representation (Human Development Report 2011). Another telling example occured this past Tuesday, when the US Senate reconvened after one of the biggest snowstorms that Washington, D.C. has ever seen and the only people present were women (floor managers, pages, parliamentarians). Speaking about this incident, Alaska Republican Senator Lisa Murkowski reminds us of the power of women in difficult circumstances: "Something is genuinely different, and I think it's genuinely fabulous. So perhaps it just speaks to the heartiness of women, that you put on your boots and put your hat on and get out, slog through the mess that is out there."
Inclusive and equitable climate policies and programs can deliver social and economic development co-benefits and will support steps towards sustainable development. Very often initiatives designed without a clear understanding of the realities of people's lives, including the social and cultural structures that can ignore and sideline women and girls, are unlikely to achieve their intended objectives. For this reason, the International Union for Conservation of Nature's (IUCN) Global Gender Office (GGO) has created a suite of knowledge products covering a range of issues that provide policymakers and practitioners information, best practices, and tangible strong examples of gender-responsive climate change so that they can incorporate these lessons into their work.
We at the GGO believe that the Paris Agreement stands as a critical turning point for the global community in its recognition of the importance to act on climate change. We are grateful that it does include indications of its growing understanding of the vulnerability of women in many regions of the world and the critical need to integrate women, their empowerment, and gender equality concerns proactively. And ultimately, we look forward to future opportunities to support implementation for gender-responsive climate change policies and projects.
To learn more about GGO's work, or to explore further issues related to gender and the environment, please visit the GGO website and follow us on Twitter.

— This feed and its contents are the property of The Huffington Post, and use is subject to our terms. It may be used for personal consumption, but may not be distributed on a website.