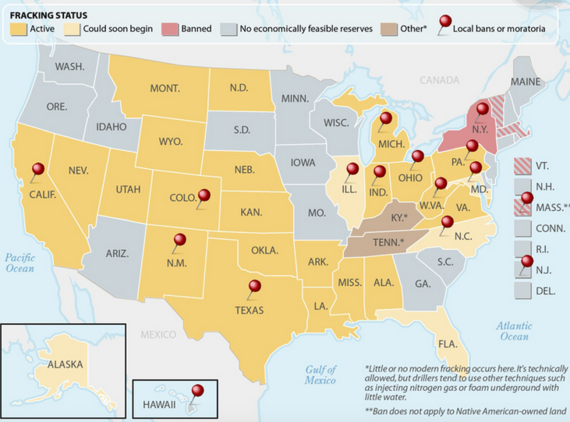 Co-authored by Doug Woodring
The disruptive innovation of fracking followed by the collapse in crude oil prices gives the world a surprise opportunity for investment in clean energy. One we better seize if we are to meet the carbon reduction goals reached in Paris last month at the UN COP21 Climate Change Conference.
The old school of thought was that only high oil prices made renewable energy more competitive – even with a decidedly uneven playing field – renewables have had to compete with over US$650 billion in
Fracking occurs in upwards of 22 U.S states. Photo credit: Paul Horn, Inside Climate News, 1/15/2015
Environmental groups don't like the potential methane emissions and compromised water quality impacts of fracking, but there is actually a silver lining.
Fracking pulled the rug out from under the feet of large oil industry incumbents, with a multitude of smaller players getting in on the production and supply bonanza. Big Oil's monopoly began to shift.
Then fracking found itself on shaky ground as prices for propane – a natural gas liquid produced during the process – fell along with crude oil. This added to the natural gas glut because of over zealous production, and then decreased demand due to initial warm U.S winter temperatures has meant the fracking players – both big and small – are also shutting up shop. So, where will the money go?
To clean energy.
Because there's no turning back global will, societal pressure and of course innovation. The scaled advances in solar, wind and other clean technologies, will bring renewable energy prices down even further, while take-up rates and installations escalate.
The Ivanpah Project is the world's largest operational solar thermal power plant – providing power to 140,000 homes and located in California's Mojave Desert. Photo courtesy of California Energy Commission
We've seen the rapid growth of electric vehicles and battery capacity through the likes of Tesla and Panasonic, the boom of megacities where car use will decrease, and agreements within the Asia-Pacific Economic Cooperation forum that reduce tariffs on clean technology equipment between members, while aiming to double renewable energy generation by 2030.
The assumption was that low oil prices would kill off new innovations.
Not this time.
It only takes a year or two for innovation and scale to take root, and with all the other factors falling into place, this is the time for renewables to truly take off.
Even the World Economic Forum while talking about the fourth industrial revolution hasn't factored in this development yet – the end of oil as we know it!
Doug Woodring is based in Hong Kong and is the co-founder of The Ocean Recovery Alliance and the Plasticity Forum
— This feed and its contents are the property of The Huffington Post, and use is subject to our terms. It may be used for personal consumption, but may not be distributed on a website.