"Sleeping Around" is a recurring blog post series where Dr. Winter, a sleep specialist, goes beyond the typical questions about healthy sleep and seeks out the most unique sleep circumstances to offer his assistance in how to tackle them. Even if your problems are not as extreme, hopefully the experience can help shed some light on your own sleep difficulties.
A few years ago, a reporter asked me to describe insomnia with one word. The question elicited an almost immediate response from my brain.
"Fear," I replied.
For those who experience chronic insomnia, bedtime elicits a sense of dread, coupled with anxiety and frustration. They don't know what the night will hold or what the after effects of a poor night's sleep will be, but in their mind, they feel helpless. Many sleepers make up their mind that their sleep will be poor even before they climb into bed, and guess what? They're usually right!
Although I have practiced sleep medicine for more than a decade and help patients with insomnia on a daily basis, this kind of crippling fear is not something I relate to outside of driving with my teenage daughter. I look forward to getting into bed and sleeping. When it works out and I sleep, it's great. If I have an occasional sleepless night, I really don't care. Even though a bad night of sleep does not create a sense of terror in me, I nevertheless have always been curious to feel what my insomnia patients feel. I simply had no idea how to go about finding out.
Leave it to my wife solve that problem. She emailed to me a picture of a mountain climber sleeping on what looked like a small cot (or portaledge) lashed to the face of a cliff, seemingly miles off of the ground. "This looks scary!" she said. "I can't sleep just looking at it." I agreed. Although it was a contrived, dramatic circumstance, the experience embodied everything the chronic insomnia patient experiences when he or she goes to bed. At that moment, I knew I needed to sleep on a rock face.
After a few failed pitches to regional climbing experts, I finally found my partner in crime when Arthur Kearns, owner of the Seneca Rocks Climbing School, sent me the following response to my unusual request:
Happy to help where I can. I've spent a number of nights in a portaledge and know it will be an article that will pique people's interest. The usual response is "How can you sleep in one of those so far off the ground?" to which I reply, "It's easy, I'm tired."
Three days later, I am standing in the Gendarme Climbing shop (also owned by Arthur), located across the street from the other-worldly Seneca Rocks. The woman behind the counter, Arthur's wife Diane, greets me enthusiastically as she converses with a South American couple chirping excitedly about climbing the only "true peak" (a peak accessible only by technical climbing) east of the Mississippi.
Arthur arrives and after a friendly hello, gets right to work. He checks to see if the equipment and supplies he requested I pack are suitable. He then takes me to the adjacent climbing school, fits me with a harness, and attaches several pounds of rope to my bag. After getting his equipment, the portaledge, and another massive bundle of rope, we start walking to the site. Deep down I was fairly certain he would size me up, look at my inappropriate shoes, my inadequate water supply, and put an end to this nonsense. No such luck. I begin to feel the dread my insomnia patients live with at night, and I'm not a fan.
Arthur is a treasure trove of rock climbing knowledge, stories, and history of the sport, particularly in this region. A Duke graduate, he admits to getting bitten by the climbing bug hard. He talks at once like the old guard, but as his spry 51 year-old body ascends the rock formation, he speaks like the colorful young climbers that dot the sandstone rock face this afternoon.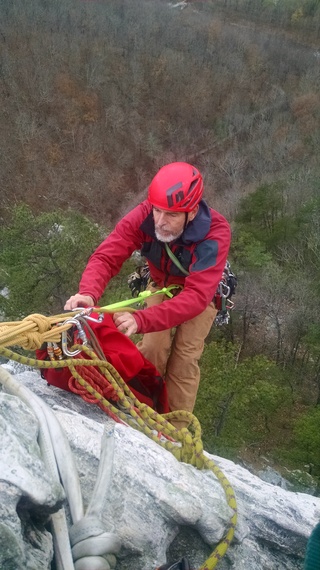 As we make our way up and around refrigerator-sized boulders that have broken off and fallen from above (one of them quite recently), I see our destination come into view: Humphrey's Head: a huge narrow formation that looks like a man with a flattop haircut. A half-baked plan to fake a kidney stone forms in my mind as Arthur begins setting ropes and shuttling the equipment up the rock face. As I watch him assemble the portaledge, I cannot help but feel like Sir Edmund Hillary, preparing to take the credit for all of Tenzing Norgay's hard work. With the ledge assembled and flapping around like a kite in the wind, I begin my ascent. As I climb my way up to Arthur's location, he laughs as I make a more difficult series of moves to reach its summit, "I wasn't sure how you'd handle that part. Some people get pretty scared and freeze up." I wondered if I would "freeze up" trying to sleep tonight. I simultaneously wonder if I will literally freeze as the wind gusts really intensify the dropping temperature.
As I get myself and my equipment onto the ledge, I ask Arthur about the most difficult night he ever spent climbing. He recounts an ascent of El Capitan in Yosemite Park when a storm suddenly came upon him and two other climbers. "We were able to get a portaledge put up, but because of where we found ourselves, we could only secure it to the rock face with a single nut." He remembers waiting for the nut to give and for the portaledge, with the three of them in it, to go swinging across the cliff. Arthur calls a climb like this an epic, a climb that takes an unplanned and dangerous turn. Epicing usually involves the climber having to basically survive one night or more under trying circumstances.
Arthur's description of his Yosemite epic and what I am feeling on that ledge serves as a brilliant model of insomnia. Insomnia patients are essentially "epicing" virtually every night of their lives. They climb into bed hoping for sleep, but at some point the night takes the unexpected turn toward wakefulness and suddenly the individual embarks on a desperate struggle for rest.
With the portaledge secured at an appropriate level on the rock face, Arthur asks me. "Is this the most harebrained place you've ever slept?"
"Easily." I reply with a weak smile.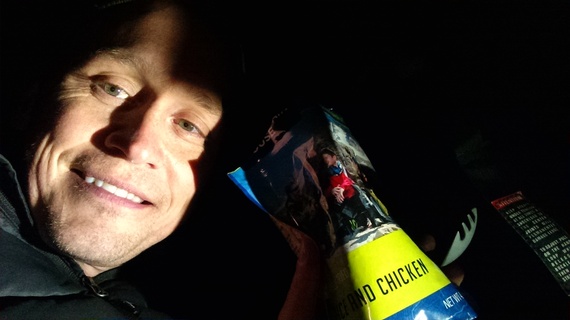 Satisfied, Arthur departs promising to return in the morning to retrieve me with some freshly made coffee. As the sun goes down over the impossibly beautiful valley, I prepare the boiling water for my freeze-dried chicken and rice. I nearly weep it is so delicious. I read for a few minutes, and then turn my headlamp off. Despite the day's cloudiness, a quietly clear sky appears above me. I remember reading a study about men sleeping better when exposed to nature. I'm doubtful. As I stare up at the stars, I put a hand on the rope that is clipped to my harness and follow it up through the hole in my sleeping bag. I know it will keep me safe, even if the ledge collapses. I know, because of Arthur's expertise, I am safe. Nothing bad is going to happen to me tonight. Despite my expectation of not being able to sleep easily (or at all), as my anxiety lessens and my cortisol levels drop, my body allows me to slip into sleep.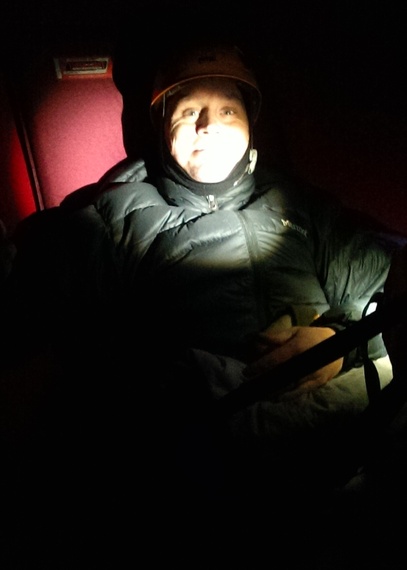 I awake abruptly around 11:00pm and look at my watch. I have been asleep for nearly four hours. I cannot believe it. I am at once amazed and dismayed. I am amazed that I have slept on the ledge. I am dismayed because I'm certain that I'll never get back to sleep again! I'm also dismayed that my feet are sliding off the edge of the portaledge, but I quickly adjust myself and level the platform.
If you climb into your bed tonight, bound firmly to terra firma, and struggle a bit to fall asleep, close your eyes, and imagine looking at the stars. Imagine Arthur. You are safe, and your harness is going to keep anything bad from happening to you, even if you can't sleep. See insomnia for what it is…it's just fear. Fear of not being able to sleep. Decide now that tonight will not be an epic adventure in your bed.
If you're like me on that ledge, you might wake up tonight certain that you will never fall back to sleep. As I look around the valley that night as midnight approaches, the idea of missing out on a few hours of sleep seems very insignificant. Feeling a little more tired than usual tomorrow does not seem important. Hopefully tonight it doesn't seem important to you either. Maybe that will be the last thought that goes through your mind before you are waking up to some of the best coffee you've ever tasted.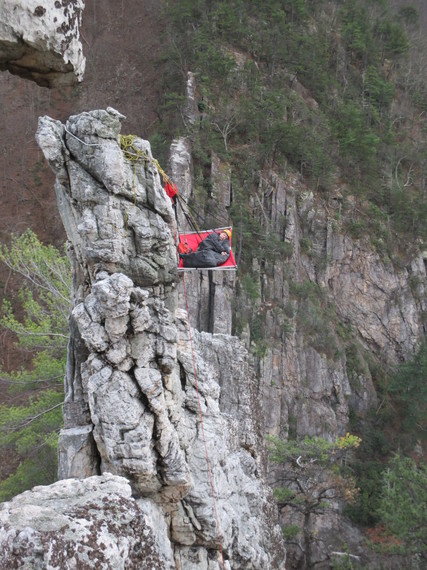 Follow Dr. Christopher Winter on Twitter: www.twitter.com/SportSleepDoc
Find more information about sleep at www.cvilleneuroandsleep/media.html
Dr. Winter monitored his sleep during the night. Click the image below for his sleep report.

— This feed and its contents are the property of The Huffington Post, and use is subject to our terms. It may be used for personal consumption, but may not be distributed on a website.