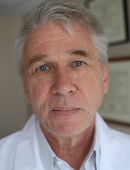 Peter R. Dottino, MD
Director, Division of Gynecologic Oncology
Mount Sinai Health System
Co-Director, Ovarian Cancer Translational Research Laboratory at Mount Sinai
Senior Faculty, Obstetrics, Gynecology and Reproductive Medicine
Icahn School of Medicine at Mount Sinai

Ovarian Cancer Treatment: A Guide to Abdominal Chemotherapy
If you or someone you love has been diagnosed with ovarian cancer, you may have heard about an abdominal treatment called intraperitoneal chemotherapy. It received recent media attention after a new study concluded that increasing its use in clinical practice "may be an important and underused strategy to improve ovarian cancer outcomes."
As a gynecologic oncologist, it is my job to help patients understand their treatment options so they can make informed decisions about their care. Below, I answer questions patients often ask about intraperitoneal chemotherapy.
What is intraperitoneal chemotherapy?
Most ovarian cancer patients are treated with primary surgery followed by chemotherapy (anti-cancer drugs) administered through a vein (intravenously, or IV). With intraperitoneal (IP) chemotherapy, the drugs are infused right into the abdominal cavity through a port that has been surgically implanted under the skin.
The chemicals bathe all the internal organs in that area. This both introduces a higher concentration of drugs into the bloodstream and allows direct absorption into the membrane that covers the organs and lines the abdominal wall. Called the peritoneum, this lining is the site to which ovarian cancer most commonly spreads.
Is it a new treatment?
No. The Mount Sinai Hospital was one of the earliest groups to begin using IP chemotherapy, in the early 1980s. In 2006, the National Cancer Institute (NCI) issued a "Clinical Announcement" stating that ovarian cancer patients whose tumors had been optimally removed during surgery "should be counseled about the clinical benefit associated with combined IV and IP administration of chemotherapy."
How effective is it?
Several clinical trials have shown that giving IP chemotherapy in combination with IV chemotherapy can help women live significantly longer than with IV administration alone. For example, a 2006 study conducted by the Gynecological Oncology Group (GOG) found that the addition of IP chemotherapy to the standard IV treatment regimen increased survival time by 16 months.
There is no question that IP chemotherapy is an effective treatment for ovaran cancer; however, it is not for everyone. In the GOG trial, more than half the patients were unable to complete the full six cycles of prescribed treatment, due to intolerable side effects caused by increased toxicity. These included abdominal pain and cramping, fatigue, nausea, vomiting, and more.
Will I be a candidate for IP chemotherapy?
Before starting chemotherapy, most ovarian cancer patients undergo surgery to remove as much of the tumor as possible, a process called debulking. The gynecologic oncologist who performs your surgery will be the person best able to judge whether you are a candidate for IP chemotherapy, as this treatment is recommended only for women whose tumors have been completely debulked. Other factors that help determine your eligibility for IP chemotherapy include the stage of your cancer, your age, physical ability, overall health, and surgical history.
If you are a candidate, a doctor experienced in administering IP chemotherapy should walk you through its risks and benefits so that you can make an informed decision about your treatment.
Is it necessary to go to the hospital for this treatment?
No. IP chemotherapy can be given on an outpatient basis in your doctor's office, but it is important to find a doctor experienced in administering it. If there is no gynecologic or medical oncologist in your community who is comfortable giving it, you will need to travel to receive IP chemotherapy (ask your doctor for a referral).
Is this the best treatment for ovarian cancer?
There is still no consensus in the field of gynecologic oncology as to the best treatment for ovarian cancer following surgery. Clearly, IP chemotherapy is a good, first-line therapy for those women who can complete the regimen. Another promising treatment involves giving the drug bevacizumab intravenously along with standard IV chemotherapy agents. In comparison with standard chemotherapy, this combination therapy has been found to significantly prolong the time women live without progression of their disease, while offering generally acceptable tolerability. (An ongoing NCI clinical trial is studying how well this therapy works compared to a combination of bevacizumab and IP chemotherapy.)
Are there any new treatments on the horizon?
As with several other cancers, much of the new research in ovarian cancer is looking at therapies that target a tumor's specific genes. Having debulking surgery at a center that can study the molecular makeup of your original tumor and determine its genetic "signature" could expand subsequent treatment options should your ovarian cancer relapse, as is often the case. For instance, this information might confirm your eligibility for a clinical trial of a drug targeting a particular genetic mutation that your tumor carries.
Is there anything else I should know?
Keep in mind that there is no "one size fits all" treatment for ovarian cancer. Your doctor should discuss with you all the appropriate treatment options for your individual case, and help you understand and weigh the risks and benefits of each.
— This feed and its contents are the property of The Huffington Post, and use is subject to our terms. It may be used for personal consumption, but may not be distributed on a website.
Read more here:: Ovarian Cancer Treatment: A Guide to Abdominal Chemotherapy