This blog post was written by Administrator Team Lead, Kimberly Weller.
Here at
Image of water pollution in the Dominican Republic
One of the harmful implications of landfills, is that they emit harmful gases as a byproduct of garbage decay. These gases are composed of mostly methane, and carbon dioxide with minor traces of oxygen and nitrogen. According to the Environmental Protection Agency (2013), carbon dioxide (CO2) is the most prevalent greenhouse gas. Each CO2 molecule survives in the atmosphere from 50-200 years. Although methane has a lifespan only a fraction of that of CO2 (12 years average), a single methane molecule can hold 20 times more heat than one CO2 molecule.
Another harmful implication of landfills, is that they have the potential to pollute our water systems. Landfills release leachate, a mixture of rainwater and landfill waste, consisting of organic materials, heavy metals, and harmful compounds. Ammonia, a persistent toxin, has been revealed as a dangerous pollutant in leachate. Leachate leaks through landfills into the ground leading to ground and surface water pollution. Although current landfills require environmental impact assessments, liners, buffer areas and collection systems for leachate, older landfills do not possess these mechanisms. Minimal oxygenation in landfills dramatically slows the rate of garbage decay. Typically, after a landfill closes, the area must be evaluated for nearly 30 years.

Image of waste disposal in the Dominican Republic
In an effort to ameliorate these challenges, Schools for Sustainability Inc. is working towards constructing a model for healthy waste diversion. This model includes techniques such as source reduction, reuse, composting, anaerobic digestion, and recycling. S4S schools, these techniques will be applied both in the classroom and in practice.
To reduce waste at the source, Schools for Sustainability Inc. (S4S) will teach students about sustainable waste disposal. S4S's curriculum will contain a module on environmentally friendly waste management. Each student will spend up to one year learning how to effectively manage and repurpose waste. Students will be taught tactics for source reduction, such as awareness, avoidance of packaging, and source reuse.
S4S's waste management plan will also include green procurement, and the selection of environmentally sustainable products. For example, S4S will implement the EarthShip model by repurposing items such as tires, reclaimed wood, and plastic bottles to construct the school. Additionally, in constructing and maintaining the schools, we will aim to purchase materials that are locally, and sustainably sourced, made with environmental consciousness, or, are in and of themselves, recyclable or compostable.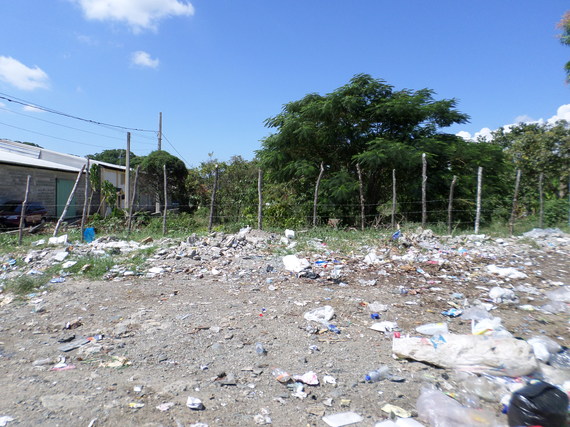 Image of the lack of waste management awareness in the Dominican Republic.
Since S4S schools will have gardens and farms on premises, food scraps will be segregated into animal feed, anaerobic digestion, and compostables. The majority of food and animal waste will be processed via anaerobic digestion to produce biogas for energy or fertilizer. Upon consulting with farmers, and the appropriate regulatory bodies, acceptable food waste will be fed to the farm animals. Certain foods scraps and yard clippings will be composted and eventually used as soil in our community garden.
Additionally, the students and staff will recycle all plastics, glass and aluminum. At S4S schools, we will explore options for converting difficult to recycle items into reusable materials. Recycling goals will be set for our classrooms through competitions and reward systems. All students and staff will be educated on the process of recycling and encouraged to divert from landfill as much as possible. Staff will conduct waste audits on a semi-annual basis to ensure that all materials are being properly disposed and to ensure consistent checkpoints for maximizing sustainability within our schools.
Schools for Sustainability Inc., is always looking to learn new methods for implementing eco-practices. We warmly welcome all insights, suggestions, comments and concerns regarding waste management. Please share any ideas in the comment box below.
References
1. The White House Weekly Address: Climate Change Can No Longer Be Ignored. (2015). (https://www.youtube.com/watch?v=_csblV1PJ4o).
2. Advancing Sustainable Materials Management: 2013 Fact Sheet. Environmental Protection Agency. (2013). http://www.epa.gov/wastes/nonhaz/municipal/pubs/2013_advncng_smm_fs.pdf
3. Weight of Nations: Material Outflows from Industrial Economies. World Resources Institute (2000). http://pdf.wri.org/weight_of_nations.pdf
4. Kjeldsen, Peter, et al. "Present and long-term composition of MSW landfill leachate: a review." Critical reviews in environmental science and technology 32.4 (2002): 297-3364.
5. Overview of Greenhouse Gases: Carbon Dioxide Emissions. Environmental Protection Agency. (2013). Retrieved September 2013, from http://www.epa.gov/climatechange/ghgemissions/gases/co2.html
6. Overview of Greenhouse Gases: Methane Emissions. Environmental Protection Agency. (2013). Retrieved September 2013, from http://epa.gov/climatechange/ghgemissions/gases/ch4.html
7. Freudenrich, C. How Landfills Work. (2015).
http://science.howstuffworks.com/environmental/green-science/landfill.htm
This blog post was written by Administrator Team Lead, Kimberly Weller. Kimmy earned her B.A. in Psychology from the University of Delaware and her Masters of Science in Public Health and Certificate of Environmental Health from the Johns Hopkins Bloomberg School. Kimmy is thrilled to support education and the environment through Schools for Sustainability, Inc.
— This feed and its contents are the property of The Huffington Post, and use is subject to our terms. It may be used for personal consumption, but may not be distributed on a website.