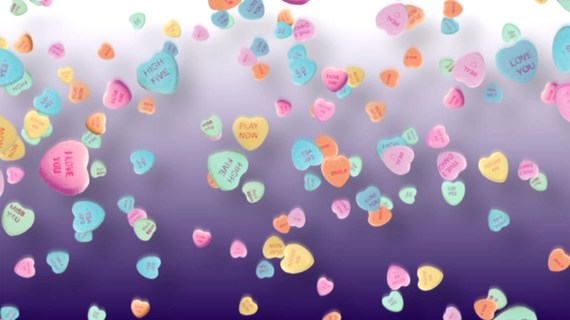 It had been over five years and I was sure this Valentine's Day was going to be the first one I didn't cry. No more feeling sorry for myself. This was the year.
Then I saw the Google Doodle.
It started out innocently enough. A lovely illustration of conversation hearts headlined the page this holiday. "How adorable!" I thought. "How charming! I love conversation hearts." (Yellow is my favorite.) My eyes glided, enchanted, across the sweet sayings of "Crush" and "First Kiss" and settled on the soon-to-be insidious PLAY button on the lower right-hand corner. "Bonus!" I thought. "It's animated." Naively, I navigated my mouse over the triangle and clicked, fully expecting the hearts to begin their pretty pirouettes, choreographed to a delightful ditty and magically morphing into a cupid-filled depiction of their illustrious logo. My need for alliteration satisfied, all would be right in Googleville.
That's not what happened.
Instead a voice, a male voice, starts emanating from my speakers. What's this? Where's my syrupy sing-song or powerful piece of classical music? I'm confused. He explains that all the stories I'm about to hear are true. ??? Did I drop into an episode of Dragnet?
Hesitantly, I click on the pink "Mr. Right." Another voice, this time an older woman, begins to tell the tale of the day after she got married. Worried that she has made a horrible mistake, she sets out on a walk that lasts well into the evening. She arrives home to her frantic husband and soon realizes that is where she is supposed to be. Forty-two years later, she has never had another moment of doubt. As the story is being told, line drawings come and go on the selected heart, animating the dialog. And so it continues on down the line from "First Kiss" to "Puppy Love" to "Blind Date." Each story heart touching and poignant.
Commence the tears. You know the routine. Small pools form in your eyelids. A quick sniff or snort to try and make them retreat. Deep breaths – and then all is lost. Floodgates are open.
REALLY?!!
My expectations for the day completely derailed in the first thirty minutes, I began to ruminate over what just transpired. I was doing so well! My grief had evolved into an attribute – no longer my definition. I pondered this self-disappointment all morning – getting dressed, driving to work. Preoccupied, I had forgotten to pack a lunch. Then, in the drive-thru, the revelation struck me – I wasn't weeping out of melancholy, I was weeping out of empathy. I had been responding to the tender moments of someone's history. For so long I was pushing and compressing my emotions deep into the bedrock of my being, fully expecting them to fossilize. Meanwhile, my subconscious was constructing a derrick and had begun the gradual and cautious drill into my sentimental reservoir. The Google Doodle was just the final twist of the bit spewing the tears up and over.
I should have seen it coming.
There were hints. The previous summer, I attended a wedding. The bride was the daughter of an old and cherished friend. I traveled to Spokane with another lifelong cohort; the three of us inseparable since childhood. Our bond had survived through countless trials. We were bridesmaids for one another. This was the first wedding for one of our children and it was special.
The big day came and I was composed. No tears expected from me. Heck, I had been to funerals and not spilled a drop. You think a wedding could unsettle me?! Cue the music…
Release the Kracken!!!

It didn't help the procession music was the love song from Princess Bride, one of my husband's and my all-time favorites. But what the heck was this?! Hold on second – it's not just crying – it's blubbering!!! I wasn't prepared for this assault. There was no dainty handkerchief in my pocketbook. I struggled for something to sop up the onslaught streaming down my face. Frantically, I grabbed an offering envelope from the pew and cradled it under each eye. Not their intended use, but it was better than nothing.
Completely taken aback, I struggled to make sense of this phenomenon and gain my composure. I had never, ever cried at a wedding. Why now was I bleary-eyed and snot-nosed? But the bride was the spitting image of her mom on her wedding day. In both appearance and mannerisms, she was a reflection of a date more than twenty-five years earlier when all was right with the world. Plus, I had held this wife-to-be when she was only a few days old, a little peanut of an infant. She was our collective first child. There wasn't going to be enough envelopes to last the weekend.
My dear friend and closest confidante asserts I never stood a chance. "It's the beginning of menopause," she explains. "Those hormones will get you every time." I suppose some of that is true. There could be a biological component bringing on the waterworks. But is that all there is to it? I hope not. That would mean there will be an end to this epiphany. The change will eventually complete and I will return to being unresponsive and dispassionate. I am finally at a place where I feel it's safe to express my vulnerability and I don't want to retreat. I want to feel the sting of raw emotion and be confident that it won't scorch my soul and turn me to ash. I want to shed a tear and be happy about it.
I want to cry at the Google Doodle.
————-
This piece originally appeared on Medium
— This feed and its contents are the property of The Huffington Post, and use is subject to our terms. It may be used for personal consumption, but may not be distributed on a website.