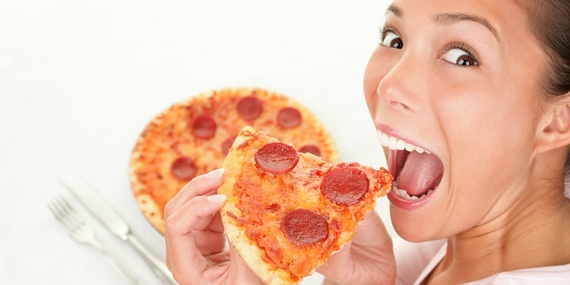 Two years ago I was 50lbs heavier and if you had asked me, "Hey Sarah, you wanna go for a jog or a hike or a yoga class or something?" I'd be like, "Shut up. Pizza."
© via Canva.com
I'm not saying it'll work for everyone, and I can't promise you won't embarrass yourself, but give it a shot. If a skeptical, lazy, sassy and formerly out of shape lady like me can start practicing yoga, you can to.
Plus:
It's really not that intimidating.
Yoga teachers are really nice. Like, infuriatingly nice. Which means that even if you are crazy out of shape and uncoordinated, they will do their best to make your first yoga experience a good one.
It's cool if you're broke.
Most places offer a free first class (or first week), and there is probably a donation based yoga class offered nearby (especially if you live in LA or Portland or another hippie dippy place).
You won't look dumb as often.
Body awareness. Do you know what that is? I didn't. It's pretty self-explanatory, though. I'm a very accident-prone person, and I've tripped over nothing much less often since starting yoga… also, climbing stuff (rocks, hills, etc.) is more fun/less terrifying.
It's less depressing than the gym.
This depends on what gym you go to… but in most yoga classes, the goals people set for themselves aren't "I wanna loose 10 more lbs.," it's "I wanna do an effing HANDSTAND." A healthier mindset, if you ask me. At the gym, I just imagine people repeating in their heads, over and over in time with the elliptical, "I'm fat. I'm sad. I'm fat. I'm sad. I'm fat. I'm sad."
*This could also just me be – no offence to gym rats (I'm probably just jealous).
It's way easier to access your naughty bits.
Oh, stop blushing. Do you know how flexible yoga makes you? Pretty freakin' flexible, man. If you're not a waxer, then this is for you. Get into that forward fold action and you'll be accessing areas that usually require an elaborate lighting and mirror setup with EASE.
You won't be as ugly and smelly.
This is especially true for those of you that get into hot yoga – having a good regular sweat sesh will make your sweat smell less gross and your skin happy. It's something about how you sweat out the toxins, and the microscopic bacteria on your skin… Dr. Adebola Dele-Michael, a dermatologist at Radiant Skin Dermatology and Laser in New York City told Medical Daily "Sweat purges the body of toxins that can clog pores and plague the skin with pimples and blemishes."
You'll hate people less.
Even if the inspiring/Sanskrit words that come out of the yoga teacher's mouth make you giggle at first, eventually they'll work their magic on you. Balancing on one foot with your other leg in all kinds of crazy positions takes focus, and learning how to do a pose like crow takes patience and self-love. Learning to be patient with yourself will help you to be patient with others. And if not, then you'll at least get better at faking it. On top of that, like all workouts, yoga makes all those happy endorphins come out to play.
—
If you try yoga and enjoy it, then tell me in the comments below! And if it's terrible, then I DEFINITELY want to hear about it because those stories are usually way funnier.
— This feed and its contents are the property of The Huffington Post, and use is subject to our terms. It may be used for personal consumption, but may not be distributed on a website.