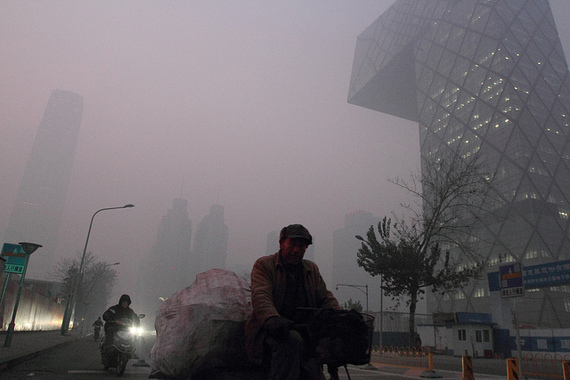 Air Pollution in Beijing by 大杨 @flickr
In early February, Chinese officials announced that no new coal production would be approved for the next three years, while existing production will be reduced by 500 million tons in the next three to five years. The latest State Council decision is an economic one, tied to market reforms that are likely to kill jobs in the heavily industrial coal and steel sectors, but the move is also consistent with China's environmental policy and carbon reduction goals. These targets, aimed at improving air quality and public health in Chinese cities while advancing the nation's compliance with global carbon emissions agreements, cannot be achieved without meeting the formidable challenge of weaning China away from its reliance on dirty coal.
There is good news on that front, even as millions of Chinese continue living in Beijing or Shanghai under toxic clouds of smog and constant public health alerts. It's hard for Westerners to envision just how bad coal-related pollution in China is, but compare the 155.2 daily average particulate pollution (PM 2.5) in China's most polluted city of Xingtai – home to about 7 million people in Hebei province, south of Beijing – with just 15.3 as the Los Angeles daily average, and both the contrast and climate imperatives are obvious. That's why it was a welcome development to hear that China is making strides in its carbon emissions reduction that may exceed the pace of its 2030 target commitments by 10 years, but far more effort is still needed as China navigates the transition from fossil fuel dependence to renewable energy sources.
That battle is being fought on several fronts. Although total emissions fell by an estimated 3 percent last year, China still consumes an estimated 4 billion tons of coal per year approximately half of the coal used in the world. Most of that consumption is in China's coal-dependent heavy industry, and Hebei serves as a telling case study.
Postcard from hell
While population density, a dearth of rainfall, and topography and geographic position don't help, coal-fired plants – iron, cement, steel and petrochemicals among them – are what causes the air to smell like petrol on a good day and send the province's children to the hospital on far too many bad days. Hebei is also home to coal mines that feed the voracious appetite for power that Chinese industries demand and the province has little to no pollution controls to keep its energy-intensive heavy industry in check.
For the time being, the provincial government has targeted four industries – iron, cement, electricity and glass – for overall emission reduction, because they account for more than 50 percent of all coal use and 60 percent of the sulphur dioxide, nitrous oxide and dust that is spewed into the air, polluting Beijing and surrounding regions. It's here that aggressive investment in renewable energy and a weaning off coal needs to be taken seriously.
Unfortunately, a recent project by the National Sierra Club, narrated by celebrity activist Cher, demonstrates how a small pool of less than two dozen companies and individuals, all invested in dirty and damaging Chinese coal to run their heavy industry factories, have amassed exceptional wealth worth over $70 million by polluting air, water and soil. According to the video, these 21 companies are responsible for over 10% of carbon emissions in China while at the same time dodging emissions standards put in place by Beijing. Indeed, in a recent report, Reuters revealed that Chinese electricity firms, responsible for delivering coal-fired power to heavy industry, have been falsifying emissions data in order to avoid supervision. While Beijing has strengthened environment laws and attempted to clamp down on emissions fraud, enforcement of these laws has remained the weak link. These scenarios, and others like them, must be addressed by serious commitment from Chinese officials as they develop robust environmental policies and become vigilant in enforcing compliance with them.
That's true of vehicle emissions as well, and Beijing plans to enforce new standards that exceed China's national goal of reducing pollution from carbon-fueled cars and trucks by 40 to 50 percent as a long-term goal, beginning in major cities and expanding that 2020 target nationwide. An estimated third of Beijing's smog is related to vehicle emissions, but some analysts say that merely shifting the market to electric vehicles won't help – because ultimately, it just increases demand for the coal that's generating China's power. Hebei just announced that all new residential complexes must have vehicle charging stations available, but Hebei, Beijing, and nearby Tianjin all rely on coal for more than 90 percent of energy, and shifting the grid to renewable sources that end China's coal addiction is the only way to get clean.

Emissions standards, regulations and "fuzzy data"
Chinese officials, and, to be fair, their counterparts around the world, need to invest in solutions rather than shell games in order to achieve their emissions targets and prevent catastrophic climate change. But in China, where 4,000 people per day are dying because of air quality that is so poorly controlled, officials need real transformation to regulate heavy industry as well as transportation and residential energy.
The latter is a serious problem because so many Chinese rely on coal-fired heating, in more than one way. Yes, China and the world are decreasing dependence on electricity generated by dirty coal, either by using clean-coal technologies or by eliminating coal altogether in a shift to wind, nuclear and other sources. But it's not just the grid – countless Chinese rely on coal-fired boilers and heating stoves, with measurable impacts dating back to 1990 that demonstrate health and life expectancy decreases in the north, where coal was once free and remains subsidized, compared with the data from southern China.
The winter heating season causes a spike in particulate matter, and may contribute to air quality alerts, but China's lax regulatory enforcement continues all year round. It results in fraud, falsified emissions reporting, and coal data that one power plant manager, perhaps far too generously, simply calls "fuzzy." Alex Wang, an expert in Chinese environmental law, calls it something else: "Data falsification is a long-standing problem: China will not get its environmental house in order if it does not deal with this first."
To that end, Beijing is to be commended for tightening environmental policies and penalties. But Wang and other Chinese environmental experts have made clear their concerns that laws are only as good as their enforcement, and clean-energy plans only matter if you implement them. Paying lip service to them isn't going to reduce carbon emissions by the world's biggest polluter, and China needs to show the global community that it is serious about strategies to end reliance on coal.
— This feed and its contents are the property of The Huffington Post, and use is subject to our terms. It may be used for personal consumption, but may not be distributed on a website.