By Joni Blecher
A computer chip that can decompose sounds like something straight out of a "Mission Impossible" movie, but that's exactly the idea behind a new kind of chip designed for use in electronic devices like cell phones and tablets — an innovation that may help reduce the millions of tons of electronic waste the world generates annually.
Researchers at the University of Wisconsin-Madison and the U.S. Department of Agriculture Forest Product Laboratory have teamed up to create a new chip substrate composed mainly of wood. We already use wood fiber to make paper, which is recyclable. After breaking down the same fiber to the nano level, the researchers were able to create a flexible and biodegradable "paper" composed of cellulose nanofibril (CNF).
About 200 micrometers thick, the CNF is a viable, eco-friendly alternative for the substrate used in microwave chips found in wireless devices. To ensure the chip parts would adhere to the new substrate, the CNF needed to have a smooth surface. And since wood also naturally attracts moisture and expands, the team added an epoxy coating, which they say solved both issues without sacrificing biodegradability.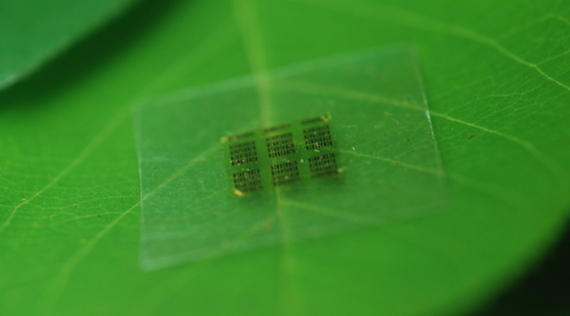 A cellulose nanofibril (CNF) computer chip rests on a leaf. (Source: Yei Hwan Jung, Wisconsin Nano Engineering Device Laboratory)
"The majority of material in a chip is support. We only use less than a couple of micrometers for everything else," says research team leader Zhenquiang (Jack) Ma, a professor of electrical and computer engineering at UW-Madison.
To complete the process, Ma's team created the electronic components of the chips on a temporary substrate, then used a rubber-stamping method (often used in flexible electronics) to transfer the parts to the CNF. Tests of the new chip showed similar results to chips commonly used for wireless communication in cell phones and tablets. In addition, the process reduced the amount of semiconducting material used, potentially reducing the cost of developing the chips.
The tests also showed that the chip was biodegradable and would eventually dissolve back into the earth. "Now the chips are so safe you can put them in the forest, and fungus will degrade it," says Ma. "They become as safe as fertilizer."
Visit XPRIZE at xprize.org; follow us on Facebook, Twitter and Google+; and get our newsletter to stay informed.
Joni Blecher is a freelance writer who has spent her career covering tech and a myriad of lifestyle topics. When she's not writing, you can find her exploring the food scene in Portland, OR.
— This feed and its contents are the property of The Huffington Post, and use is subject to our terms. It may be used for personal consumption, but may not be distributed on a website.