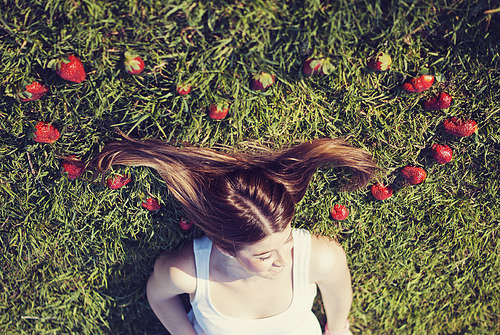 photo credit: via photopin (license)
Life is an ever-evolving tapestry of lessons, growth and expansion and when you are truly tuned into the messages along the way, you find your life transforms in ways you never thought possible. The following Universal Truths are just that, truths that have the ability to change your life for the better regardless of where you are, where you've been, or what challenges you are facing. So read, embrace, and allow them to transform your life in beautiful ways.
(Read the original 12 Universal Truths That Will Change Your Life for the Better here.)
1. Following your heart IS your life purpose. Finding your life purpose can often feel like trying to locate the Holy Grail, but the truth is it's not as hard as you think. Simply put, following your heart and doing what you love is your life purpose and when you live in that way, life just keeps getting better and better. Follow your heart, do what you love, and I promise life will grow, evolve, and become more incredible than you ever thought possible.
2. (Inspired) Action is everything. As logical thinkers and problem solvers, we've been taught that the best way to achieve our desires is to set a goal, create a plan and take massive action. In my experience that is certainly one way to do it, but it's not the best way. The best way is to listen to your heart, be open to the possibilities, and take action on the inspired ideas that you are given each and every day. You'll find when you do that; you will reach your goals faster than ever before.
3. Letting go is the answer. Too often we spend our time keeping score of what isn't working, what's not manifesting, and what's just going wrong in our lives and that only keeps us stuck. When you let go of the outcome, the struggle, and the constant worry about when, how, or if your desires will manifest and trust the process, you make room for the magic of the Universe to bring in your every desire. As Queen Elsa said "Let it go!"
4. Your heart knows more than your head so listen to it. We often have a tendency to overthink life and end up making it more difficult than it needs to be. Living from your head as opposed to your heart, invites fear, logic, and endless analysis to stop you from doing things that will radically transform your life. Tune into your heart and let it be your guide, I promise you won't be sorry you did.
5. Fear is a f—ing liar. The number one thing that stops most people from living a life of fulfillment and joy is fear. Fear of failure, success and fear of the unknown, but the truth is fear is a f—ing liar. It's designed to keep you safe when in reality it just keeps you playing small. Don't let fear be the reason you don't take the leap forward and create a life you love. Feel the fear, make friends with it, and move forward anyway.
6. You are enough. Second only to fear, feeling not good enough is another way you may be holding yourself back from the life you truly desire. Regardless of what you want to do, you must know that you are good enough and capable enough to do what is needed to succeed. It may take some learning, support, and help from others, but when you trust that you are not only good enough, but worthy too there's nothing you can't accomplish.
7. Be happy first. The belief that when you finally get there (wherever that is) you will be happy is a misunderstanding of how life works. Being happy where you are with what you have is the way you will bring more joy, abundance, and love into your life. Like attracts like and when you are living in a state of joy where you are now, you bring in more opportunities to continually feel joy. Simple, but true.
8. You are more powerful than you know. Most people don't realize how much control and power they truly have over their lives. Every single day you get to choose how you experience life and what thoughts you think. Your thoughts shape your reality and allow you to manifest and create a life that you will absolutely fall head over heels in love with. If that's not power, I don't know what is.
9. There is no better time to begin than now. You can make a bunch of excuses about why starting when you have more experience, money, or time is better, but the truth is your time is now. No matter what dream, aspiration, or desire you have, you will never have more time in your life to bring those desires to fruition. Do your future self a favor, drop the excuses and start now.
10. The magic of life lies just outside your comfort zone. Doing the things that scare and excite you at the same time are exactly the things that will shift your life in incredible ways. Be willing to step outside your comfort zone and stretch yourself a bit. When you do that, you will find strength you never thought you had and you will accomplish things you never thought possible.
11. Your beliefs create your life. What you believe about yourself, the world, and anything else is directly related to how you experience life. If you aren't happy with how things are going for you right this moment, start with your beliefs. When you shift your mindset and what you believe, you have the power to transform any situation for the better.
Let's keep the conversation going. What truth do you live by everyday that others need to know? Share yours in the comments below!
Lamisha Serf-Walls is a life coach for women who are ready to live an amazing life on their own terms, but feel held-back and frustrated in how to make that happen. Her mission is to create a community of empowered, free flowing, lovers of life who live a life of freedom with ease and inspire others to do the same. You can learn more about Lamisha and what she offers by joining her free community, visiting her Online, on Facebook, or Twitter or grab her free audio 5 Ways to Break Free From Stuck.
——
HuffPost's GPS for the Soul app is based on two truths about human beings. First: We all have a centered place of wisdom, harmony and balance within us. Second: We're all going to veer away from that place, again and again and again. What we need is a great course-correcting mechanism — a GPS for the Soul — to help us find our way back to that centered place, from which everything is possible.
Because no one knows better than you what helps you de-stress and tap into that place of peace inside yourself, it's important for you to create your very own GPS guide — a personalized collection of whatever helps you course-correct. Email us at [email protected] and we'll set you up with your very own HuffPost blogger account to share your guide on the site. If you're already a blogger, we encourage you to upload your personal guide today. We can't wait to see what you have to share.
— This feed and its contents are the property of The Huffington Post, and use is subject to our terms. It may be used for personal consumption, but may not be distributed on a website.
Read more here:: 11 (More) Universal Truths That Will Change Your Life for the Better