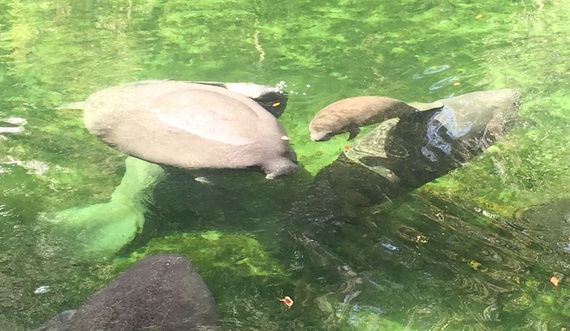 I recently took my daughter to Blue Spring State Park in Florida. There, we had a chance encounter with a group of eight West Indian manatees. For more than an hour, we watched this group of 'sea cows' lazily swim about, slowly fall to the sandy bottom, and then return to the surface with a burst of spray as they took a breath. My daughter was especially enamored with a young calf, only two feet long, who would periodically nuzzle up to its mother and nurse. Manatees are truly unique and charismatic animals.
This experience might not have been possible fifty years ago because manatees were so scarce they were classified as an endangered species. However, the U.S. Fish & Wildlife Service has recently proposed down listing manatees from "endangered" status to "threatened". Concerns about threats to manatees certainly remain, but even the possibility of a change in status in an indication of progress.
Recovering manatees has required concerted efforts by many dedicated stakeholders, including federal, state and municipal governments, nonprofits, the private sector and individual citizens. The Florida Manatee Recovery Plan outlines the actions needed by all of these partners to avoid extinction. The plan has a significant focus on reducing accidental killing of manatees, especially by boats. Another important component is protection and restoration of the feeding, breeding and nursery grounds needed by manatees, especially underwater meadows of seagrass (also known as 'eelgrass').
Conserving seagrass is crtically important for manatees because the herbivores rely on it for food. It just so happens that efforts to save manatees' food source also helps many fish species and mitigates climate change.
Seagrass beds are found in coastal zones across tropical and temperate regions worldwide. But seagrass can only live under certain conditions. Changes in the environment due to climate change (e.g., sea-level rise, increased frequency and intensity of storms) and other impacts (pollution, nutrient loading, invasive species, damage by boaters) can alter these conditions, and further squeeze the already narrow band of coastal areas that are suitable for seagrasses.
As a result, seagrass habitats have declined by around 30% worldwide since the 19th century. However, thanks in part to the heightened priority given to seagrass conservation in Florida by the Manatee Recovery Plan, trends in the state look much better than the global story. Among 30 Florida estuaries in which seagrass habitats are monitored, eight show stable abundance, while 11 show increases. Only seven exhibit ongoing decline. This is good news, and not only for manatees.
The Atlantic Coastal Fish Habitat Partnership (ACFHP) conducted the most comprehensive evaluation to date of the importance of coastal habitats for fisheries on the Eastern Seaboard. It has long been known that seagrasses are important during the vulnerable juvenile stage of a variety of fish and invertebrate species. However, the research by ACFHP, soon to be published in the journal BioScience, revealed that seagrasses are the most important nursery habitat for species of interest to commercial and recreational fisheries, such as black sea bass and even Atlantic cod. Therefore, recovering habitat for a protected species has also helped to improve the sustainability of fisheries.
It is not only fishermen and the species they pursue that benefit from seagrass conservation, however. The Boston Globe recently declared that, "Eelgrass could save the planet". This is a bold assertion, to be sure. But reporter Derrick Jackson makes a compelling case: Scientists estimate that vegetated habitats in the coastal zone, including seagrasses, saltmarshes and mangrove forests, account for around 50% of carbon capture by marine ecosystems, despite comprising only 2% of ocean area. In addition to supporting manatees and fisheries, seagrasses are helping to curb the rising tide of global climate change.
The interconnected nature of ecosystems means that a single impact can have consequences, often unintended, for other species, habitats and processes. This is a significant challenge for environmental stewardship. However, those same connections can also present unique opportunities when one solution has benefits beyond the intended target. Recognizing and responding to these challenges and opportunities is motivating the transition to ecosystem-based management in the U.S. and across the globe.
Concern for the future of the lovable sea cow motivated stronger efforts to protect its seagrass habitats, and those efforts are in turn helping to build sustainable fisheries and address global climate change. This web of positive outcomes illustrates how powerful an ecosystem approach can be, for both nature and people alike.
— This feed and its contents are the property of The Huffington Post, and use is subject to our terms. It may be used for personal consumption, but may not be distributed on a website.